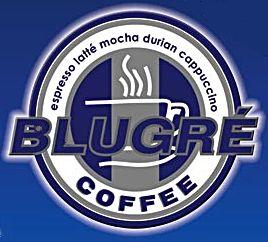 "We are not just a cup of coffee; we are a GLOBAL brand, a lifestyle and a brand that gives back."
Blugre Coffee is one of my favorite coffee shops here in the city. I love everything about this coffee shop---the place, the food, the drinks, the pastries, the people... EVERYTHING!
If you read this previous post
click link
, you'll know the things I love about Blugre and you'll know that they're
choco torte
is simply the best. Yes! As a matter of fact,
Choco Torte
became my ultimate and most favorite pastry ever since the day that I got to taste it. ♥
What makes me more drawn to this place is the fact that it is a proudly Davao brand which was founded in 1998. Cool! Now, they are on their way to reaching the GLOBAL market to compete with other known cafes and to make all Filipinos known and proud. AWWWWESOMEE! ~It makes me feel more proud to be a Dabawenya.
"BLUGRE, a brand that celebrates the uniqueness of Filipinos as a race."
Since Blugre is so awesome and we can't get enough of it, Blugre is now opening more branches for the convenience of their loyal customers. They just opened their branch at Blugre Abreeza Mall. And on the 22nd of February, 2013 , Blugre will open its doors in Tagum City, located at Nicole 22nd Strip Apokon Rd, Tagum City.
But wait, there's more..... ON February 28, Blugre is very much excited to invite more Dabawenyos to be part of the Blugre family as they hold the grand opening of the Blugre Davao Doctors located at HMPC Davao Doctor's College Bldg. Davao City ... ~This is something I'm really excited about...


Wait, again! THERE'S MORE!
More surprises await us. Blugre also has exciting treats at hand for winners of their newest and most exciting contest..
I've already taken photos of my visit at Blugre with my friend Justine. I had such an amazing time. I'll submit it soon and hope to win in the contest. yeeeeey! I'll also make another blogpost about that particular visit, too, and share to you what NEW THINGS we tried at Blugre.. yummmmm!
YES, Blugre indeed has a lot of surprises.
However, despite the new great things about Blugre, they always manage to maintain the high level of satisfaction they leave their customers with. Really amazing! :)
THAT'S WHY, I CAN'T GET ENOUGH OF BLUGRE. I NEVER GET ENOUGH OF BLUGRE.
WITH BLUGRE, I ALWAYS WANT MORE. I ALWAYS HAVE MORE! ♥
xoxo,
ANGEL ♥
at Blugre Abreeza Mall.
photo courtesy of Ms. Sharee Mendoza. ♥